Josh Stedman talks exclusively with heyjudebfc.tripod.com about the night which scared his family for life!
It was a wet and stormy night in October 2000 I was getting ready for a normal weekend.

How wrong I was!

Rhys was staying round.

The reason? We were playing at Luton and he couldn't stay anywhere else.

Straight away Joe was annoyed as he was mixing with a mate and Rhys swung the door open and hit the decks and completely f*$&@d up his mix (in Joe's words).

Rhys accompanied me to football training for The Junior Bees and my fellow players were very impressed with Rhys's goalkeeping skills even though he thought he was shit!!! Until we got home and he forced me to watch the tackiest thing on T.V Eurotrash.

After this Rhys chose to watch Do I Not Like That Graham Taylors England disaster and Rhys gave his view on every detail wether they were wanted or not. Rhys forgot to bring his football boots back to my house the night before so in the morning we diverted to Cranford and he amusingly had to
climb over the 100 foot electric fence with crocadiles circling to get them.
My verdict:The most enjoyable weekends of my life!
Jon G Talks Exclusively To HTTP://HEYJUDEBFC.TRIPOD.COM About The Night That Made Him Gayer Than He Ever Was!
What I am about to tell you is the truth. Nothing but the truth. Blah blah blah.

The week started off normally as it should. I wake up, shower, go to school, come home, eat & go to bed. This happened for the following four days until on one Friday afternoon I got a phone call from a Mr. Jonno. He asked me if I would like to accompany him to the train station and then kip round his. The reason: Rhys Williams was coming over.

At about 6:30 we met Rhys at the station and brought him back to Jonno's mansion. The journey back to Jonno's took longer than expected. Not just because Rhys would shut up for five minutes but because he forced crippled old me and Jonno into having a knock about in the park. After about half an hour of footie we went went back to Jonno's mansion and dropped our stuff off.

Nothing new happened at Jonno's: He chased his cats around and told us to say hello to them, was abusive to his parents and ordered drinks for us.

We all trapsed up seven floors(Ed Jonno- A bit over the tope eh?) of Jonno's mansion before getting exhausted from walking all that way. By the time we got up there it was time to leave. Why I hear you ask? Well because we wanted to take Rhys somewhere he couldn't talk for hours on end. We decided on taking him to the cinema to watch 'Evolution'.

As none of us had anything to eat we went into a Cafe and guess who we saw? Greg the crippled Geordie fucker from 'Byka Grove, man (Byker Grove). The little brat was sitting looking smug.(Ed Jonno - What a twat!)

Jonno and I shared a garlic bread pizza while Rhys at someting that looked like the chef had been sick on and had stuck it in the oven.

Upon leaving to the cinema Rhys did a strange thing. He got money out of a bank and didn't scrounge of us (!!!). We arrived at the cinema and met Jonno's and my group before going in to buy our tickets.

A strange thing happened while we were in the cinema. Rhys was quiet for two hours (!!!!!!!!!!!!!!!!!!!!!).
Somehow Rhys Managed to spill half his popcorn and coke over the floor. I still think that him and Jonno where up to no good so he calls me gay to make it look as if he's straight(Ed Jonno - Excuse me Mr!).

Anyway, the film ended and we all went home. Upon arriving at Jonno's mansion he didn't call the butler (his mum) nor the servant (his dad) but opened the door by himself (!?!?!?!). We took the lift to the seventh floor of Jonno's mansion and were given a four poster bed with silk sheets.
When I went to bed I could still hear Rhys talking half the way through the night.
I awoke in the morning to Jonno's alarm clock and luckily for Jonno's silk sheets I didn't get a morning wood(Ed Jonno - This is a family site!).

The morning carried on the same as last night: Rhys talking and Jonno and me mumbling. Breakfast consisted of two criossants each and a glass of the finest wine this side of the universe.

The rest is history as you know: go to Warren Farm and play footie.

What I have said brings back memories of constant talking that will never leave my memory. If Rhys does stay round he's a nice lad. Just doesn't shut up. I hope that our suffering will help others in the future.

Peace

(Ed Jonno - Quite accurate Jon, GOD I was shattered after his chatting!)
Coming Soon!

Rob Pyles Mother exclusively tells http://heyjudebfc.tripod.com about Rhys stay and how she nearly broke down under the pressure of his talking!

Gaz Thomas reveals to us the grief he had to endure when Rhys stayed!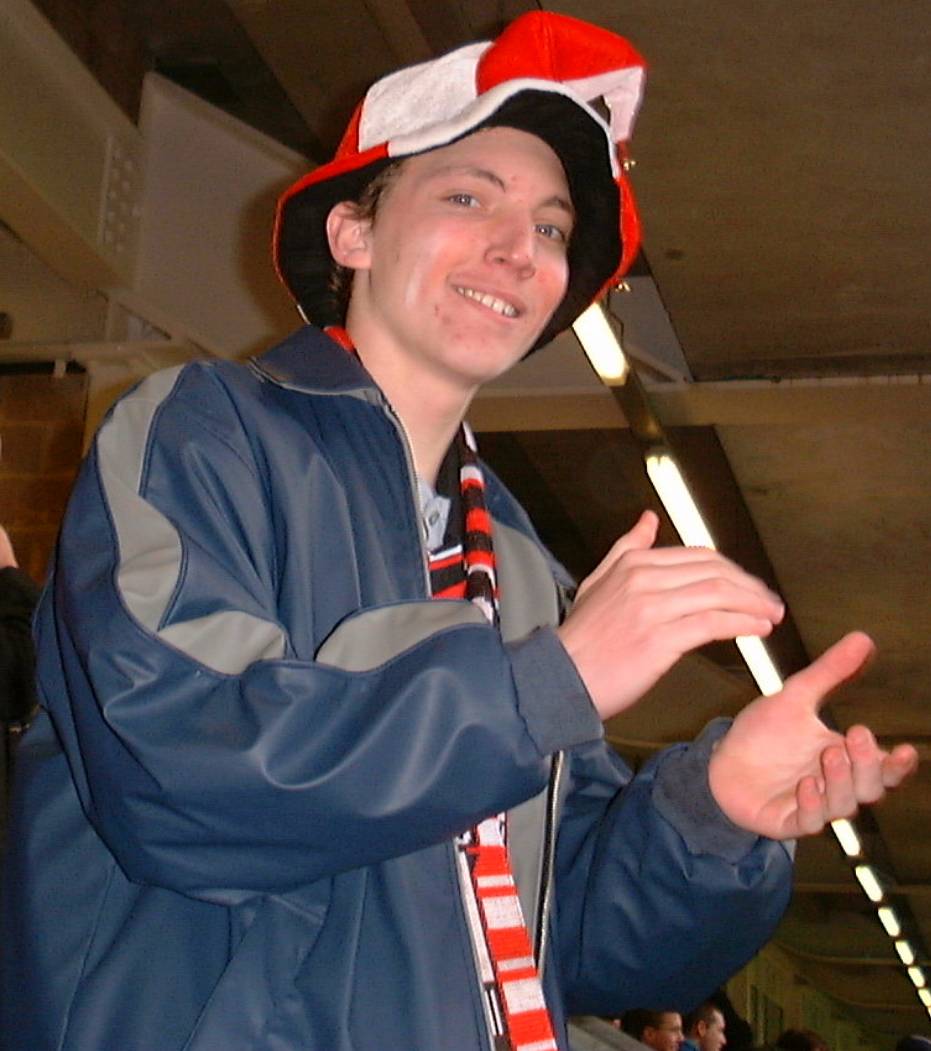 The culprit himself