DIRECTIONS TOURNAMENT VENUE

BODINGTON HALL - LEEDS

Bodington hall is situated 4 and a half miles outside Leeds City Centre
on The Otley Road, the A660, at Lawnswood - between Headingley and Bramhope

FROM THE M1 NORTHBOUND

At junction 43 take the M621 signposted to Leeds Centre. Exit at Junction 3.


Exit M621 at junction 3 and follow signs for the city centre and universities. Pass under the railway bridge keeping in the outside lane and enter City Square. Take exit signposted "university" (the main post office to your right). Turn right at the next traffic lights into East Parade. Travel up East Parade in the left hand lane across the Headrow into Calverley Street (Town Hall on your left). Continue past Leeds General Infirmary (on your left) and turn right immediately after the Civic Hall (on your right). Turn left at the next traffic lights onto A660. Continue on the A660 (note, this will change its name from Woodhouse Lane, to Headingley Lane and then to Otley Rd). At the second roundabout you reach (which intersects with Leeds ring road - the A6210) go straight ahead keeping on the A660 Otley Rd. After approximately half a mile, move into the outside lane; the entrance to Bodington Hall is situated on your right.


The weather forecast for Friday Saturday and Sunday is as follows:

Friday scattered showers and sunny intervals a high of 17C and a low of 10C

Saturday scattered showers and sunny intervals a high of 20C and a low of 12C

Sunday scattered showers and sunny intervals a high of 18C and a low of 7C

NICE !!!!
NB: Reception, Bar and Refectory are all in the Central Block
There is NO car parking in front of the Pavilion
The car park is behind Woodsley House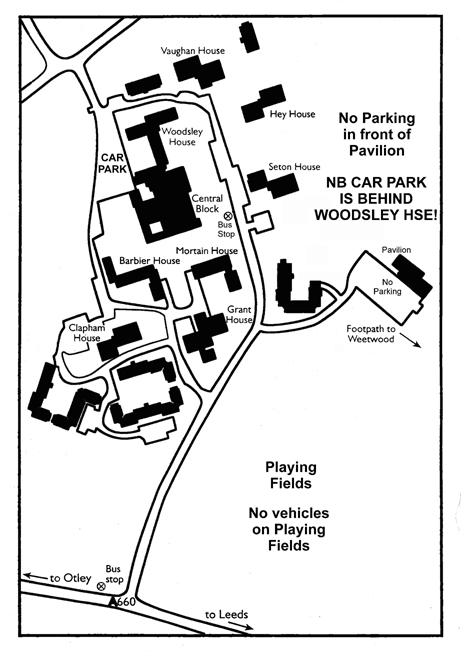 Pitch 1 Group A
09:00
HEY JUDE
BRENTFORD XI
V
HUDDERSFIELD

09:40
SOUTHAMPTON
V
WBA

10:20
HEY JUDE
BRENTFORD XI
V
AYR

11:00
SOUTHAMPTON
V
HUDDERSFIELD

11:40
WBA
V
AYR

12:20
HEY JUDE
BRENTFORD XI
V
SOUTHAMPTON

13:00
WBA
V
HUDDERSFIELD

13:40
SOUTHAMPTON
V
AYR

14:20
HEY JUDE
BRENTFORD XI
V
WBA

15:00
HUDDERSFIELD
V
AYR


Matches completed at 15:35

Pitch 2 Group B
09:00
NORWICH
V
LEEDS

09:40
NO TO WOKING
BRENTFORD XI
V
CREWE

10:20
NORWICH
V
AEK ATHENS

11:00
NO TO WOKING
BRENTFORD XI
V
LEEDS

11:40
CREWE
V
AEK ATHENS

12:20
NORWICH
V
NO TO WOKING
BRENTFORD XI

13:00
CREWE
V
LEEDS

13:40
NO TO WOKING
BRENTFORD XI
V
AEK ATHENS

14:20
NORWICH
V
CREWE

15:00
LEEDS
V
AEK ATHENS


Matches completed at 15:35

WORLDNET 2001 RULES


1. Tournament format: Day one will see a series of games between ten groups of competing teams; the winners and runners-up from group G, along with the nine other group winners plus the best runner-up, will automatically qualify for day two of the tournament proper. The remaining eight runners up will play off against each other at the end of day one; the four winners qualifying for the tournament proper and the four losers going on to compete in the plate on day two. In addition, the six worst performing bottom teams in the group stages (excluding group G), will play off against each other for a place in the Plate Competition. On day two, the sixteen qualifying teams will play off against each other in an FA Cup style knockout format. The thirty-two non-qualifying teams will go forward to contest the Worldnet Plate; this will also be a sudden death knockout competition. All rules for both events will be as per the Football Association, with the following exceptions:

<![endif]>(i) Games will be 15 minutes each way.

(ii) In the event of a draw in the knockout stages, a ten-minute Golden Goal period will be played (no half time). If the teams are still level at the end of this period the tie will be decided on penalties

(iii) Teams will be allowed a maximum of five substitutions per game; players who have previously been taken off can be brought back on during the same game, although this will count towards the maximum of five.

2. Disciplinary measures: Any player receiving a sending off or two bookings will miss their teams next game.

3. Squad registrations: All squads, including individual email addresses for each member (Maximum size - 22 players), should be registered with the following contacts no later than Monday 2nd July 2001. Your email header should read: WorldNet 2001 Squad Registration Team Name.

R.Goodair@brad.ac.uk

C.Thacker@brad.ac.uk

Squad replacements will be allowed in the event of late injuries or other unforeseen circumstances. If you need to change your squad, email the details to the two addresses above immediately; do not expect to be able to turn up on the day with half your squad having miraculously metamorphosed into the local Sunday League Champions!! Team Managers should also be aware, that there would be little point in using more than 22 players, as there will only be 22 medals available should you win the tournament! Even more important, the use of Ringers i.e. non-list members, is strictly forbidden at WorldNet 2001, and will be punishable with a ban from next years tournament if discovered. Please note, the IFA will be checking your list membership during the run up to the tournament; if any members of your squad will not have a valid email address (subbed to your list) at the time of the tournament, we will require a very plausible excuse as to why this is so. Please include all fairy tales in your registration email!

4. Administration: Each group on the first day of the tournament will have a Group Administrator. They will be expected to fulfil the following duties:

a) Make sure that both teams and the officials for each match are ready to start games on time. You will be provided with a full match schedule and the names of officials for all your games.

b) Liaise with the referee at the end of each game, to confirm the score, and take note of any bookings or sendings off.

c) Report scores, bookings and sendings off, to the IFA Central Admin Desk at the first available opportunity.

N.B. We require NON-PLAYING volunteers for this role. If you know of a suitable candidate/s who would be willing to take this on, please forward their details via email to the two addresses above, with the header: WorldNet 2001 Group Admin.

6. Disclaimer: As per official IFA policy, Worldnet 2001 has not been registered with the FA at Lancaster Gate and hence is not an FA sanctioned tournament.



We, the IFA, must make it clear that all players compete in the tournament at their own risk. Football can result in injuries, sometimes serious, but the organisers of Worldnet 2001 cannot be held responsible for any injuries incurred during the tournament. Likewise, they cannot be held responsible for any theft or damage to belongings or motor vehicles whilst at the venue.

Teams who reach their respective finals, could end up playing a total of five to six hours football, and because the tournament is in July it could be in relatively high temperatures. It is the responsibility of each player to ensure that they are fit and well enough to participate and do not enter the tournament with any medical condition, which could endanger their health. All matches will be played on grass; it is up to players to decide on suitable footwear.

7. It's Only a Game: Certain supporters have old rivalries with other teams supporters. If anyone wishes to display their feelings towards another team, they should do this by scoring a spectacular hat trick rather than a Cantonaesque flying drop kick!

Likewise, with the increase in the number of competing teams and the advent of the second day plate competition, even the most competitive of sides will have little or no excuse for not giving ALL their players, a fair crack of the whip in terms of playing time. We all know dont we boys and girls, that its not the winning that counts, but the taking part!!

8. Officials: Since the emphasis of the tournament is on fun, it is hoped players will respect all decisions made by officials even though they may be obviously wrong! Referees and linespeople will be instructed to punish acts of dissent severely, and those teams that persistently offend in this manner will face an immediate IFA Disciplinary Hearing. Physical and persistent verbal abuse of officials will not be tolerated under any circumstances, and will result in instant expulsion from the tournament. Teams provide a lino each for their games, taking instruction from the nice guy in black as to what they will be expected to make decisions on i.e. in/outs only or offsides as well.